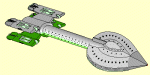 Crew of the Germania
Our vessel is designed for 400 crewmembers ( in 'reality' we are a group of about 10 people, not including world wide members of allied Romulan Fan groups ).

The Germania is commanded by Commander Ioánnis tr'Médus. First officer and treasurer is Senior Centurion Aquina Témak.

back to Germania Startpage
Departments of the RSE Germania with 'real' personnel and crewlist:
| | | | |
| --- | --- | --- | --- |
| Commander Ioánnis tr'Médus | Jens Meder | Commanding Officer | |
| Senior Centurion Aquina Témak | Michaela B. | First Officer and Treasurer | |
| SeniorDecurion Nimoka Balar T'Ellyn | Ulrike Rösler | Service Department | |
| <!a href="saku.htm">Princeps Mokona Sakurazuka<!/a> | Barbara L. | Navigator / Helmsman | |
| <!a href="tolok.htm">SeniorDecurion Tolok<!/a> | Frank K. | ... | |
| | | | |
| <!a href="elstyr.htm">Decurion Secundus Aen t'Elstyr<!/a> | Veronique J. | | |
| | | | |
| Decurion Primus Lep're-kon Dartris tr'J-Gen | Jürgen F. | | |
| | | | |
| <!a href="temik.htm">SeniorDecurion Témik<!/a> | Michael N. | "Captain" of the Swiss Guard | |
| <!a href="xxx.htm">T'Lari<!/a> | Lara | | |
| <!a href="xxx.htm"> - - - <!/a> | Peter Z. | | |
| | | | |
| | | | |

back to Germania Startpage
---